Barry Walsh Ltd.
Civil Engineering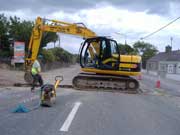 The Team consists of highly qualified and experienced professionals renowned for their superior ability to bring specific on-the-job knowledge to every construction project. We are known for our ability to handle any circumstances both foreseen and unforeseen.
Bulk Excavation
Site Preparation
Cart off Site
Rock Breaking
Main Drainage
Water Mains
Ducting
Roads & Blacktop
House Base Construction
Wind Farm Development
Land Fill Cell Construction
Waste Water Treatment Projects
Under Pinning
Piling
Mass Concrete Work
Foundations, Footpaths, Kerb Laying etc.