Barry Walsh Ltd.
Residential and Domestic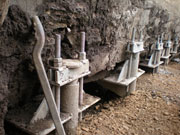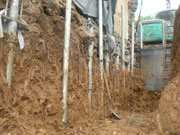 At Barry Walsh Civil Eng. Ltd. we appreciate that Groundworks Contracting is a serious business. That is why at Barry Walsh Civil Eng. Ltd. we have a highly skilled, motivated, courteous and trustworthy workforce that will deliver any project to your requirements and to an agreed deadline. Our professional approach enables us to build long lasting relationships with our satisfied clients and of course we guarantee all our work.
A list of our services include:
Consultation
We are happy to answer any questions you might have in relation to your project. Here at Barry Walsh Civil Eng. Ltd. we believe if you have a question feel free to ask.
Base Excavation
Top Soil Stripping, Setting out, foundation Excavation.
Base Construction
Steel Reinforcement, Pour Footing, Block Work to DPC, Backfilling of Base, Radon Barrier, Plumbing, Pour the Floor and Power floating.
Foundations
We carry out a range of different foundation types including Strip, Pad Raft, Ground Beams
Drainage
Foul & Storm Water drainage systems. Barry Walsh Civil Eng. Ltd. can design and install drainage solutions for domestic and commercial customers. We understand Waste Water Management and we are focused on providing innovative cost effective solutions.
Ducting
ESB, Telecom etc
Bio Tanks & Septic Tank Installation
Excavation, Installation & Maintenance.
Septic Tank upgrades
Raised Bed Filtration Systems
Reed Bed Filtration Systems
Underpinning
We offer a design and installation service ranging from traditional underpinning to screwpile a clean hassle free system to support your structure.
Kerbing
Decorative Concrete
We offer a range of designs and colours please contact your requirements
Tarmacadam
Removal of Old and damage tarmac, laying of new driveways and car parks
Footpaths
Landscaping
Please contact Barry Walsh Civil Eng. Ltd. with your project requirements to arrange a meeting to suit your specific needs.